About Game Fish ID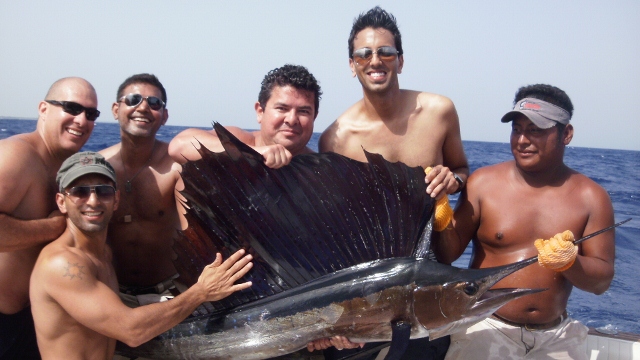 Game Fish ID was designed by and for fishermen!
That's right, people just like you.
We happen to be professionals who run charters for beginning anglers up to and including tournament champions!
If you would like to contact the designers, please email us:
Please let us know if you notice any misinformation, have fish to add or any ideas to make the application better. This app is for you!
ADD YOUR OWN PHOTOS!
We've set it up so that you can add your own photos. You can view your photos by clicking on the "Gallery" link on the bottom of the "Home" page.
We've also made it convenient for you to share your photos with fellow anglers on our Facebook page as well as our Web Site all in one easy "click".
WHERE DO I GO TO CATCH FISH LIKE THIS?
If you are interested in Blue Water Fishing in Mexico us check out:
Wasabi Loco Sportfishing Adventures.
Wasabi Loco are professionals who will treat you right and bust their butts to help you catch that rophy you are looking for!
WHAT ABOUT CRIME?

Listening to the main stream media will make Mexico sound like a cesspool of violence and disease. If the swine flu doesn't get you, you'll likely get killed off in a shootoout between narco gangs.

WHAT A CROCK?

First of all, I've lived in Mexico for over two years and spent most of five years down here. I, not only never met anybody who caught swine flu, I haven't met anyone who even knew anybody who caught it down here. It was, however, all over the U.S.

Crime is almost non-existent among tourists. The big crime problems are up north bordering the U.S. The police and military have done an incredible job keeping the tourist areas completely free of crime probems for tourists.

I've never heard of a tourist having problems down here. You are much more likely to be the victim of a crime living in the U.S.

For more information, check out the following link. They interview returning tourists to get their impressions after having visited Mexico.
THANKS!
Thanks for downloading our App. We hope you enjoy it as much as we've enjoyed putting it together for you
DON'T FORGET TO PRACTICE CATCH & RELEASE!