ATLANTIC CROAKER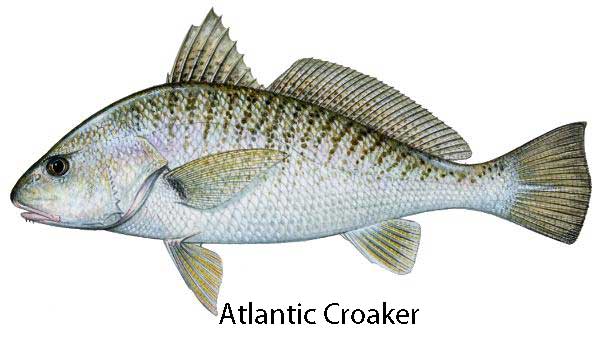 Micropogonias undulatus
English: Croaker, Golden Croaker, Granier
Spanish: Corbina, corvinón brasileño.
Atlantic croaker are about 12 inches (30 cm) long and weigh 1/2 to 2 pounds (226 g to 0.9 kg) on average. Its distinguishing characteristics include three to five pairs of small barbels or "whiskers" on their chins to help them feel for food on the sea floor; a lateral line that extends to the tip of its caudal (tail) fin; inferior mouth (located to the bottom of the head facing the ground), and brown vertical stripes on its sides.
Atlantic croaker "croak" by vibrating their swim bladders with special muscles as part of their spawning ritual. A swim bladder is a pocket full of air inside the fish that helps keep it afloat and facing upright. This behavior attracts females.