KNOBBED PORGY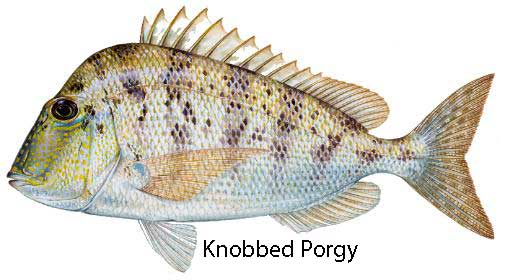 Calamus Nodosus
English: Key West Porgy
Spanish: Majarrón pecoso medregal listado.
The knobbed porgy has a conspicuously steep forehead and bony protrusions just in front of the eyes. The body is iridescent silvery blue, and the head is purplish with numerous yellow-bronze spots and blue streaks under the eyes.
The Knobbed porgy is known from the coast of North Carolina south to eastern Florida and the entire Gulf of Mexico including the coast of Cuba and the Campeche bank.
It is found over hard bottoms at depths from 7 to 90m, and can also be associated with ledges, and near-by areas of gravel or sand.
The longest Knobbed porgy ever caught was recorded at 54.4cm, though adults on average will grow to around 35cm. Knobbed porgies have been recorded to weigh up to 2.63kg