PERMIT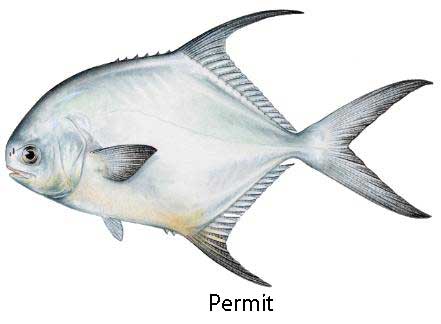 Trachinotus falcatus
English: permit fish
Spanish: palometa, pampanillo, pampanito, pámpano palometa
The Permit is gray, dark or iridescent blue above, shading to silvery sides, in dark waters showing golden tints around breast; small permit have teeth on tongue (none on pompano); no scutes; dorsal fin insertion directly above that of the anal fin; 17 to 21 soft anal rays.
Permit are pound for pound one of the strongest fish in the world. Their primary diet consists of mainly crabs but are known to eat shrimp and other small fish. Locally permit are found over hard bottom, wrecks, and reefs. Permit make long drag screaming runs of 200 yards of line on their first run. They have the ability to use their their wide bodies late in the battle and keep their head down.
A premier gamefish in every way. On slick calm days, Permit can be found "floating" near the surface similar to a laid up tarpon. They have large eyes and can see extremely well under and above the surface so caution is always used to approach these beautiful fish. Best times to fish for Permit are on calm clear days, near full and new moon.
The have been known to reach 50 lbs but are common 25 lbs.