RED PORGY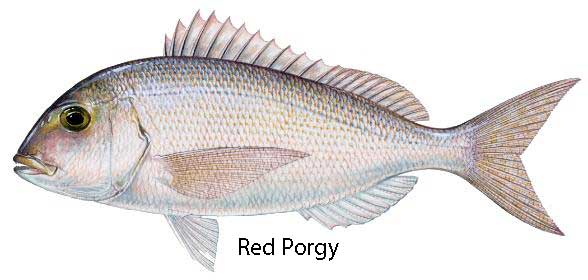 Pagrus pagrus
English: Sea Bream, Pinky, Pink Porgy, Rose Porgy, Strawberry Porgy
Spanish: Pargo
The fish is reddish on top and silvery-white on the bottom, highlighted by rows of small blue spots along the upper body. It has two blue streaks, one above and the other below the eye. The teeth are pronounced and the back teeth are molar-like.

The only porgy with a near nostril that is round (not slit-like Head and body silvery red, with many tiny blue spots.

The species is taken almost exclusively by hook and line using sturdy tackle. Anglers often catch red porgy while bottom fishing for grouper and other fish.

The average size of red porgy is 16 ½ inches and 2 ¼ pounds.